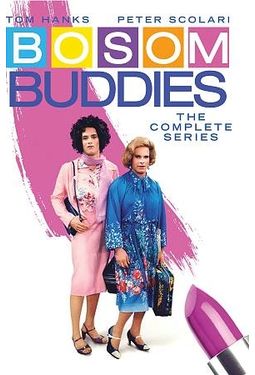 Price:
$

23

.80 + $3 additional shipping
List Price:
$24.99
You Save:
$1.19 (5% Off)
Available:
Usually ships in 1-3 business days
DVD Features:
Number of Discs: 6
Video: Color
Released: February 6, 2018
Originally Released: 2018
Label: Paramount
Encoding: Region 1 (USA & Canada)
Aspect Ratio: Full Frame - 1.33
Audio:

Dolby Digital 2.0 Stereo - English
Performers, Cast and Crew:
Entertainment Reviews:
Product Description:
Before he became a star of the silver screen, dramatic actor Tom Hanks made a comedic splash in the gender-bending 1980s sitcom BOSOM BUDDIES. When their condemned tenement is demolished by a wrecking ball, struggling advertising copywriters Kip (Hanks) and Henry (Peter Scolari) decide to rent an apartment in the same building as their friend Amy (Wendie Jo Sperber). The only trouble is, Amy lives in an all-female residential hotel, forcing Kip and Henry to don drag and masquerade as their "sisters" Buffy and Hildegarde, leading to a quirky series of cross-dressing misadventures that would make Jack Lemmon and Tony Curtis proud. This collection presents the shortlived series in its entirety for a total of two complete seasons.
Keywords:
Similar Products
Formats:
Genres:
Labels:
Product Info
Sales Rank: 35,987
UPC: 032429297549
Shipping Weight: 0.44/lbs (approx)
International Shipping: 6 items